Author talks and book launches
Blood and Bandages – Book Launch with authors Liz Coward & William Earl


28 April 2017 – 6.00pm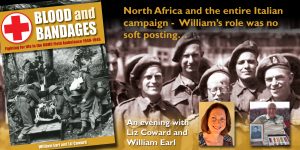 Shoreham by Sea – West Sussex
Free Event – ENTRANCE BY TICKET ONLY
SORRY – THIS EVENT IS NOW FULL
Click here for advance notice of future events.
A rare opportunity to meet author Liz Coward and William Earl whose experiences are conveyed in this newly published book.  War changes everyone and for those lucky enough to survive there can be no return to the carefree days before the hell of war broke out. William Earl was a 26 year old Chemist's Assistant when his call up papers arrived and his life changed forever. Leaving a wife and new baby virtually alone to fend for themselves was a constant worry and circumstances grew worse as the years went by.
Joining the 214th Field Ambulance Royal Army Medical Corps as a Nursing Orderly William's role was no soft posting. He was assigned to the Field Ambulance, so followed the infantry into battle to treat and recover the wounded, often under fire, before removing them from danger.
Seeing action in North Africa and throughout the entire Italian campaign at places such as Salerno, Anzio and the Gothic Line William recalls his experiences in detail with the emotion of someone who lost many friends and was the last comforting voice to many a dying soldier.
Crime in the Second World War – Book Launch with author Penny Legg


29 April 2017 – 6.30pm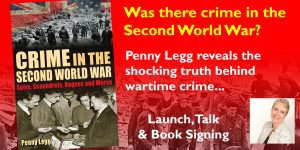 Waterstones Southampton – West Quay, SO15 1QE
Free Event – ENTRANCE BY TICKET ONLY
Click here to reserve your tickets
'Spivs, Scoundrels, Rogues and Worse' were an ever-present yet little talked about part of everyday life in Wartime Britain. Penny Legg, author of a fascinating new book 'Crime in the Second World War' will be launching her latest title where, among drinks and nibbles, she will be signing copies and revealing the shocking truth behind wartime crime. This event takes place in Waterstones flagship Southampton store and there will be a free gift for everyone attending in 1940s dress.