Growing vegetables is not something I would normally have the time to do. Besides, I've always had this suspicion that its cheaper and more efficient to pop down to the local supermarket and fill my basket there. They've always had whatever I need and the vegetables are clean, nicely shaped and often protected with a thick layer of plastic to keep them fresh. However, I have begun to have my doubts.
Packaging and the environment are hot topics and I have started shopping with at least a thought as to how the food in my basket is presented and with how much plastic. It's something of an eye opener but that's another topic for the future. This, together with the current Covid situation has prompted me to make at least a start on growing a few vegetables at home.
Clearing my overgrown vegetable patch was the first and to be honest a continuing task. It had been neglected by the previous owners and 3 years of being left to its own devices has not given me an easy start. A days work got it into a reasonable state, and I was ready. But what to grow and where do I go from here?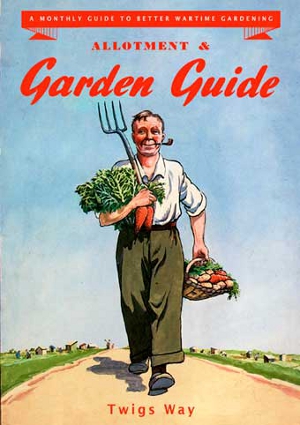 As a publisher writing on a publishers website, it's no surprise that there will now be a brief book recommendation. Keep reading, it won't be long. I consulted the 'Allotment & Garden Guide' by Twigs Way (ISBN 9780955272356 RRP £9.99). This simple guidebook reproduces the Governments monthly advice bulletins from 1945 (together with extra advice and commentary from Twiggs), and for me, as a non-gardener, was a godsend. Advice on what to plant, some very practical tips as to how to plant, and very importantly, when to plant. You do get some useful information on the seed packets as well but I'm finding the book a very useful, and interesting resource.
It's early days at the moment. I have my potatoes planted and my onions have 6 inches of green shoots coming out of the ground. My tomato seeds were planted in trays in my porch and are now 4 inches tall and ready to repot, though they're still a little early to take outside.
I have some more seeds to plant but (on the books advice) am waiting a few more weeks before sowing and am unexpectedly excited at the prospect. Yes, it's taken some time and effort, and to be honest, some hard work. But surprisingly it's also brought a great deal of pleasure. I've enjoyed being outside in the sunshine and my excitement of seeing the first green shoots popping out of the ground had me dragging my family over to see my efforts. And that's all without having yet tasted the fruits of my labour.
How much better will it be when I tuck into my own home-grown veg?