Did you buy yourself a Christmas present this year?
I admit it. I did.
It's always nice to open up the gifts from ones nearest and dearest on Christmas day but you can get a few too many festive socks and ill-fitting jumpers.  Anyone who has queued up at the Marks & Spencer returns counter in the New Year knows this all too well.
So a little treat for yourself at Christmas ensures that whatever presents you get to open on Christmas day you get one gift you will love, cherish and enjoy in the year ahead.
The next question is what your present to yourself should be?
Something that you will enjoy and appreciate, an extravagance, often something that is personal to your tastes. For me that something was an original Second World War poster.
"Make Nursing Your War Job" is not perhaps a poster you would wish to hang on your wall. In fact the poster in question is a larger format making it particularly difficult to frame even if I had the wall space and permission from my wife to hang it up. However, for me it's special and a little snapshot of wartime history.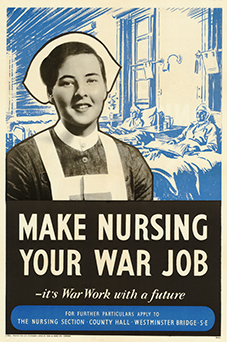 As nurses were scarce this poster was published by the Ministry of Health to recruit nurses in 1943. The Ministry of Labour had established a National Council for the Recruitment and Distribution of Nurses and Midwives. Local needs and types of nursing jobs were prioritised and Nursing Appointments Offices opened as placement agencies. In September 1943, the control of Engagement Order was extended to nurses and midwives allowing the offices to direct workers to where they were required.
I like the style and design of this poster but much more than this is that the poster was produced for a very specific purpose to fulfil a very specific need. A unique insight into an aspect of Britain's wartime home front.
An interesting variation of this poster also exists. Originally the background image was a photograph and this was later changed to an illustration based on this photograph. One can only guess at why the decision was made to change the background. Perhaps it was felt that a photograph was too realistic or that the nurse herself had more emphasis against an illustration. We shall probably never know. However I think my Christmas present to myself next year should be the alternative version of the poster – just to complete the set!
Have a peaceful, restful and enjoyable Christmas and New Year.